• #AsSeenIn • #BellaNYCMag • Beauty • Bella Magazine • News • Spring
Preventive Measures 101 is in the March/April Influence issue of Bella NYC Magazine on Newstands now! https://bellanyc.com/get-bellas-influencer-issue-featuring-christie-brinkley/
---
• #AsSeenIn • #BellaNYCMag • #BellaTV • Beauty • Bella Magazine • Healthy Lips • Holiday • Lip Care • Men's Health • News • Sexy Lips • Shopping • Soft Lips • SPF Protection • Video • Winter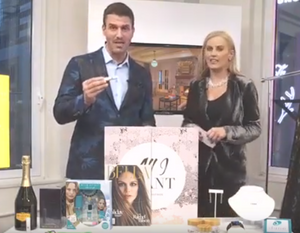 Preventive Measures 101 is recommended by Daniel Hall and Courtenay Hall in the Bella NYC Magazine #BellaTV Deck The Halls with The Halls His & Hers Holiday Gift Guide  
---
• #AsSeenIn • Beauty • Hair Care • News • Shopping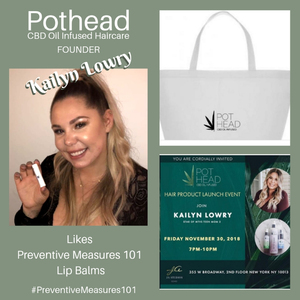 We were honored to have been part of the Pothead Haircare launch! Founder, Kailyn Lowery, understands hemp the way we understand hemp!!! Pothead Haircare's CBD oil infused products will do for your hair what Preventive Measures 101 does for your lips!
---
• #AsSeenIn • #BellaNYCMag • Bella Magazine • Cancer • Healthy Lips • Holiday • Lip Care • Men's Health • News • Sexy Lips • Shopping • Soft Lips • SPF Protection • Winter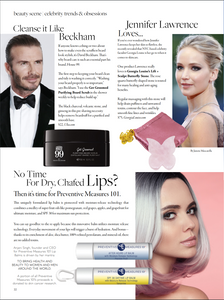 "...this innovative balm utilizes moisture release technology. Everyday movement of your lips will trigger a burst of hydration. And bonus-- thanks to its enrichment of aloe, shea butter, 100% refined petrolatum, and mineral oil, there are no added toxins."  
---
• #SportsSunday • News • Sports • Video • Women's Empowerment • Women's Sports
This past week Olympic gold medalist, Simone Biles, dominated the World Artistic Gymnastics Championships.  She walked away with 4 gold medals.  Nothing stops this powerful young woman... "Biles spent the night before qualifying in the hospital dealing with pain from a kidney stone. The stone was too big to pass and she couldn't take prescription pain medication because of doping regulations, forcing her to simply deal with it. Biles did more than deal with it. She dominated. Just like always. The 21-year-old will head home to Houston with gold medals from the team final, the all-around final, floor and vault...